Who knew a Dog could get Sunburned????
Did I know that my dog could get sunburned, not really, not until I saw the blistered nose and the sad eyes….
Can Dogs Get Sunburned?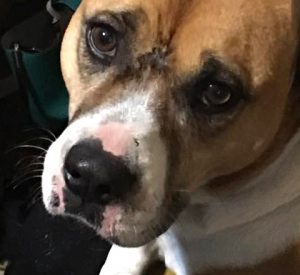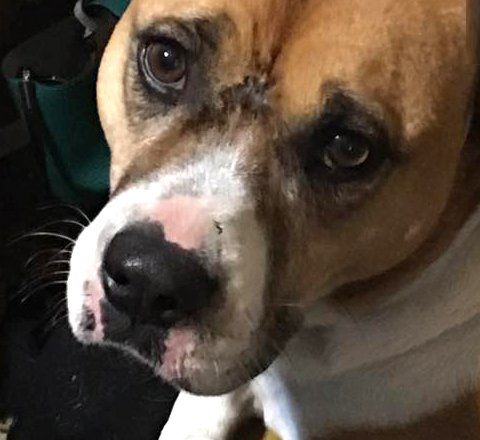 Yes, dogs can get sunburned from the harsh UV rays of the sun, just like humans.  Dog sunburns can be potentially painful for the dog and potentially lead to skin cancer.  Skin cancer is the most common type of cancer in dogs.
Dogs with white fur tend to have fair skin underneath their fur and have a greater potential for sun damage.  Dogs with thin hair or the hairless breeds are also likely to suffer with sunburns and skin cancer.  Most dogs have areas on their bodies with less fur or none at all, this is regardless of the thickness of their coat.  The area around a dogs nose is very susceptible to sunburns and can become dried out and sore, a dog's belly and his ears are other sensitive area.
What are the signs of a Dog Sunburn?
If your dog has been outside for any length of time and you see an area that has become pinker or redder than normal your dog probably has a sunburn.  If your dog has been outside and begins scratching himself in tender places and whimpers or moves away when you try to pet him, he might have a sunburn.  If the sunburn is bad enough, your dog may show signs of a slight fever.
The most common areas that you will see signs of a sun burn are around your dogs nose;  especially if the fur is thin and/or white; around the ears and on their stomachs especially around their privates where their skin may not be covered with fur.
What do I do if my Dog get a Sunburn?
Dogs do not burn as easily as people, so more damage may have occurred to the skin than originally suspected.  If the dog's skin looks really red, or if the dog is in pain or running a fever, or showing signs of blisters on their skin, call your vet immediately.  If your dog has gotten a little pink you may want to clean the area and then apply something soothing, like a Aloe Vera gel or a topical medication that your vet prescribed. I keep Aloe Vera Gel in the refrigerator so it is cool and soothing for me or my 4 legged friend when needed.  You can also apply Vitamin E, to your dogs skin, which is great for healing.
Can Dogs Wear Sunscreen?
Yes, dogs can wear sunscreen to help prevent sunburns, but you should only use a pet-friendly sunscreen.  Pet-friendly sunscreen are design to prevent potential harm caused by licking and ingestion.  Sunscreens and Sunblocks should be applied to your dogs ears, nose, belly, and groin areas.  There are Pet friendly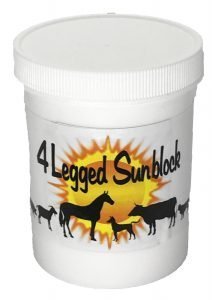 sunscreen/sunblocks in the form of a lotion, paste, or powder.  The lotions and pastes may irritate and/or sting your dogs skin.  Also, check the ingredient listed zinc oxide, PABA and other chemicals may be dangerous for your dog if ingested while licking where it was applied.  4 Legged Sunblock is an all natural blend of dry ingredients that you can dab or brush on dry or wet.
Preventing my Dog from getting a Sunburn?
If you walk your dog on a regular basis try walking them in the morning hours or later in the evening, this avoids the hottest part of the day and is not only healthier for your dog but is also healthier for you.  Also walking you dog earlier in the morning or later in the evening prevent your dogs paws from burning or blistering because the pavement or the path or roads will be cooler.
Some pet owners who have dogs with thick coats or long hair will shave their dogs to help keep them cooler during the summer exposing light skin to the sun. The dog may not necessarily need to be shaved versus just a shorter hair cut.  Also, if you are taking your dog to the beach make sure you have an umbrella for your dog, does your park have shad trees, does your back yard patio have an overhang that provides shade or are their trees…. your dog will instinctively move to an area where the rays from the sun are less intense and where the temperature is cooler.
Depending on your dog you may also want to check out sun hats for dogs, their brim may protect your dogs sensitive nose area.  And to protect your dogs paws from extremely hot pavement and ground you may want to look at the dog booties.  Some animals don't mind these items while others refuse to keep them on, so I would take care buying.
Are some breeds more susceptible to Sunburns that others?
All dogs are at risk for developing sunburns if they are in the sun for an extended period of time without protection.  Some breeds are more likely to develop sunburns due to their thin hair or baldness and fair skin.  Some of the breed more inclined to get sunburns are:
Dalmatians
Ptibulls
Weimaraners
Greyhounds
Boxers
Bulldogs
Whippets
Hairless breeds such as Chinese Crested
Animals suffer from illnesses or genetic defects that cause alopecia or coat thinning such as flea infestation or fungal infection
Chronic skin conditions such as atopic dermatitis
Dogs that suffer from auto-immune diseases
CLICK HERE TO ORDER YOUR 4 LEGGED SUNBLOCK
For additional information on dogs getting sunburns go to the following sites:
https://www.vetwest.com.au/pet-library/sunburn-and-your-dog
https://naturaldogcompany.com/dog-sunburn/
http://www.eukanuba.com/dog-articles/dog-health/dog-sunburn
https://wagwalking.com/condition/sunburn